Iowa Gov. Kim Reynolds will endorse Ron DeSantis for president at a rally in Des Moines on Monday, sources close to both governors told NBC News.
Reynolds' endorsement is a major boost for the Florida governor, who's gone all-in on Iowa since launching his bid for the GOP nomination in May. DeSantis currently trails former President Donald Trump by 27 points in the Hawkeye State, according to the latest NBC News/Des Moines Register/Mediacom poll — and he is also tied for second place with rival Nikki Haley, with the former United Nations ambassador catching up to DeSantis after he spent months pitching himself to GOP voters as the party's main alternative to Trump.
Now, DeSantis has the support of the state's popular governor as he tries to climb back up the ladder and challenge Trump in the Jan. 15 caucuses, the first contest of the 2024 GOP presidential race. More Iowa Republicans viewed Reynolds favorably — 81% — than any of the presidential candidates in the August NBC/Des Moines Register/Mediacom poll, and her support could lift DeSantis' chances of pulling off an upset.
DeSantis' campaign believes beating Trump in Iowa — or at least coming close — is the way to block the former president from running away with the Republican nomination, and DeSantis is pooling most of his resources to try to achieve that goal. In October, the campaign moved a third of its staff to Iowa from Tallahassee, Florida. It also used a significant portion of its cash on hand to make a $2 million ad buy in the state.
Iowa is also by far DeSantis' most visited state as a candidate, and the Florida governor has hit 87 counties on his way to touring all 99 in the state — a "full Grassley" in Iowa campaign parlance, named for the state's senior senator, Chuck Grassley.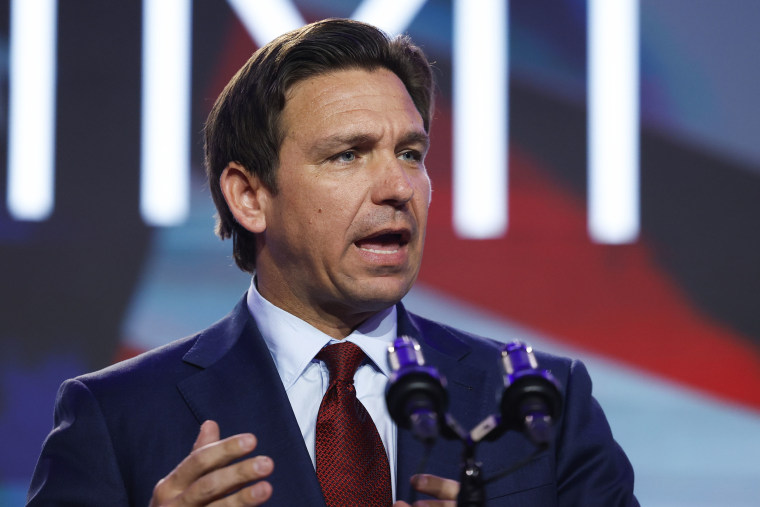 Reynolds is putting her political capital on the line after initially saying she'd remain neutral in the GOP primary. She told the Des Moines Register in February that she wanted to keep the playing field level for all of the Republican candidates looking to run against President Joe Biden.
"If I weigh in, I don't know if they'll feel all that welcome," she said at the time.
But Reynolds later changed her tune, telling Fox News in August, "I may change my mind down the road," as she was interviewing several of the candidates at her "Fairside Chats" at the Iowa State Fair.
Trump's campaign, which has criticized Reynolds throughout 2023, slammed her again after the news of her endorsement broke for going back on her initial plans to remain neutral. The Trump campaign also argued that Reynolds' endorsement "will not make any difference in this race," citing polling showing few people likely to move their votes based on an endorsement. Trump's super PAC also previously conducted polling showing few people changed their Iowa caucus votes after being asked about a hypothetical Reynolds endorsement. 
The endorsement is a major departure from tradition: Iowa governors have typically stayed on the sidelines ahead of the caucuses. An endorsement last happened in 1996, when then-Gov. Terry Branstad threw his support behind Bob Dole — though Branstad did also step out in 2016 to say he hoped Sen. Ted Cruz of Texas would be defeated ahead of that year's caucuses. Branstad's move failed as Cruz won the caucuses that year, a sign of how big-name endorsements are no guarantee in a campaign.
Reynolds has appeared with most of the candidates vying for the nomination — but her repeated friendly appearances with DeSantis began to gain notice over the summer. She's appeared alongside the governor at least eight times this year, both before and after he announced his candidacy for president. Reynolds also appeared alongside DeSantis' wife, Casey DeSantis, at a "Mamas for DeSantis" campaign event in July.
Onstage, the two governors have a friendly rapport, calling each other by their first names and lavishing praise on their legislative achievements. They sat side by side at last month's "Cy-Hawk" football game between the University of Iowa and Iowa State University.
That friendliness caught the eye — and the ire — of Trump, who sat in a luxury box above the two governors at the same game, after he attacked Reynolds in a Truth Social post in July.
"I opened up the Governor position for Kim Reynolds, & when she fell behind I ENDORSED her, did big Rallies, & she won," Trump posted, referring to how Reynolds, then the state lieutenant governor, ascended to Iowa's top job when Trump nominated Branstad to be ambassador to China.
"Now, she wants to remain 'NEUTRAL.' I don't invite her to events!" Trump added.
Prior to Reynolds, two Iowa Republican statewide officeholders endorsed other presidential candidates. State Attorney General Brenna Bird gave her support to Trump, while state Treasurer Roby Smith backed businessman Vivek Ramaswamy.
First appeared on www.nbcnews.com