Virat Kohli has equalled fellow Indian great Sachin Tendulkar's record for most one-day international centuries after hitting his 49th ton in the format.
Kohli struck a 119-ball hundred against South Africa in Kolkata at the Cricket World Cup on Sunday, on the day he turned 35 and in a game his side went on to win by 243 runs after skittling their opponents for just 83.
The batter scored his maiden ODI century at the same venue 14 years ago, versus Sri Lanka in December 2009.
It took Kohli – who averages 58.48 in ODI cricket – just 277 innings to score his 49th hundred, compared to 451 knocks for Tendulkar.
Kohli's team-mate, Rohit Sharma, is third on the all-time list with 31 hundreds, followed by former Australia batter Ricky Ponting (30) and ex-Sri Lanka opener Sanath Jayasuriya (28).
The highest-placed Englishman is Joe Root (16).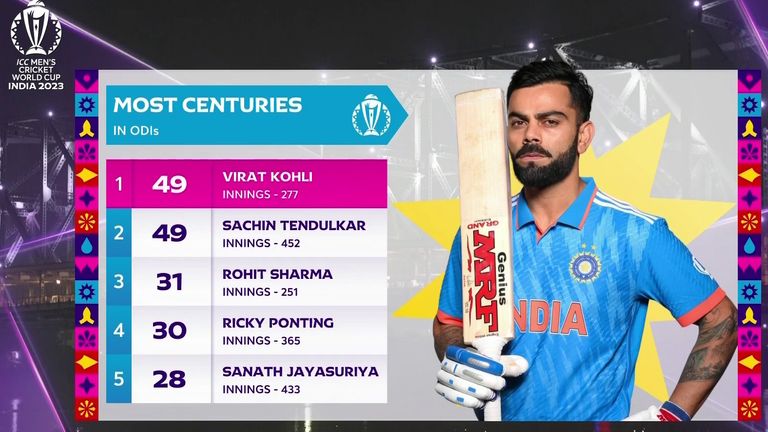 Kohli: This is the stuff of dreams
Speaking after his 101 not out from 121 balls propelled unbeaten India to 326-5 against South Africa at a packed Eden Gardens, Kohli said: "Every opportunity to play for India is a big one for me.
"To be able to do this on my birthday in front of such a huge crowd is the stuff of dreams. Something you wish happens as a child.
"I am very grateful to be blessed with these kinds of moments and to have so much love from the fans.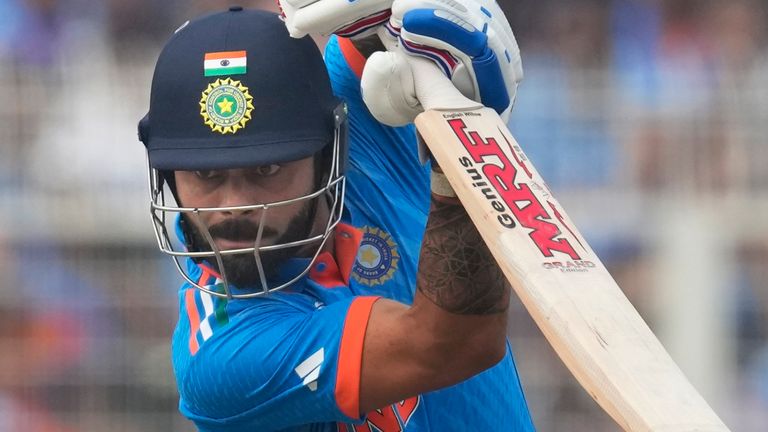 "My role was to bat deep and bat until the end. That is what I have done over the years. Guys bat around me. I am going to try and continue to help the team in any way possible."
De Villiers: 'Incredible' Kohli was 'laser-focused'
Former South Africa batter and Kohli's ex-Royal Challengers Bangalore team-mate AB de Villiers:
"He is an incredible player. I don't think anyone thought it was possible to get close to Sachin's record but he is there now. He has plenty of games to beat it.
"He played a beautiful knock against South Africa, really kept things together. I saw him in the morning and his eyes were laser-focused so I am not surprised."
Kohli looking to help India repeat 2011 glory
Kohli's century against South Africa was his second of this World Cup with the right-hander also scoring 103 not out versus Bangladesh in Pune.
India have won all eight of their World Cup matches so far, beating Australia, Afghanistan, Pakistan, Bangladesh, New Zealand, England, Sri Lanka and now South Africa.
India are trying to replicate their World Cup triumph on home soil in 2011, sealing the title 12 years ago with a six-wicket victory over Sri Lanka in the final.
Kohli carried Tendulkar around Wankhede Stadium in Mumbai after that victory, saying of The Little Master: "He has carried the burden of the nation for 21 years. It is time we carried him on our shoulders."
Kohli has now matched Tendulkar's record of ODI centuries and seems destined to eclipse him, potentially as early as India's final World Cup group game, against Netherlands in Bangalore next Sunday.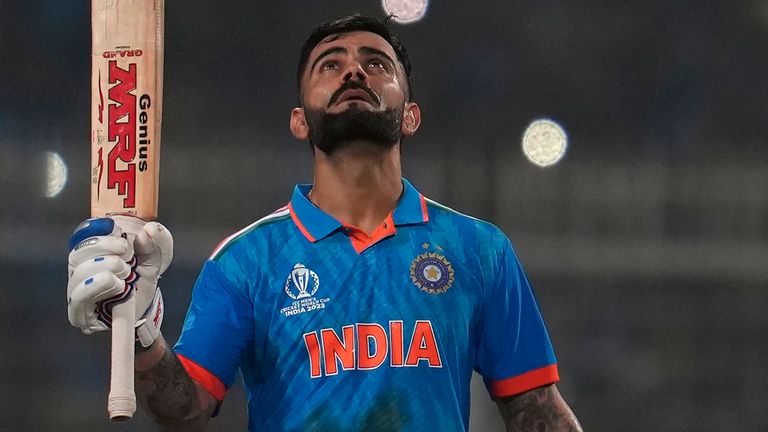 The 35-year-old has a supreme record in ODI chases, averaging 65.24 when India have batted second and notching 27 of his 49 hundreds while chasing.
India skittled South Africa for 83 all out to clock their eighth consecutive win in the tournament. In the post-match interview, Kohli said he was overwhelmed with the victory and his record-breaking knock.
"For me it's all too much to take in right now. To equal my hero's record in ODI is a huge honour," said Kohli.
"People like comparisons. I am never going to be as good as him, there's a reason we all looked up at him. He is perfection with batting.
"It's an emotional moment. I know where I come from and used to watch him on TV. His appreciation means a lot to me. He's always going to be my hero regardless."
Watch every game from the Cricket World Cup live on Sky Sports between now and the final on Sunday November 19 – or stream without a contract through NOW.
First appeared on www.skysports.com